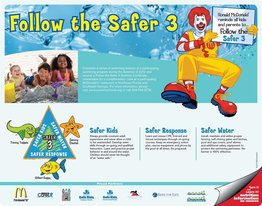 For the past several years, Florida-area McDonald's restaurants have featured the Safer 3 Drowning Prevention message on their tray liners. We are proud to announce that Timmy Tadpole, Sammy Starfish and Gilbert Guppy will once again be featured this spring! The 2012 tray liner will debut in early May to coincide with National Water Safety Month. The tray liner will educate thousands of patrons about water safety in approximately 105 stores in 18 counties.
A special thanks to Janet Zeal for her effort to keep this program going each year. We also want to recognize Swim for Life board member Miren Oca for introducing the program in the Miami Dade county several years ago.
Do you know of a business who would like to promote the Safer 3 message in a similar fashion to McDonald's? If so, please email us at info@swimforlife.org to discuss a partnership.