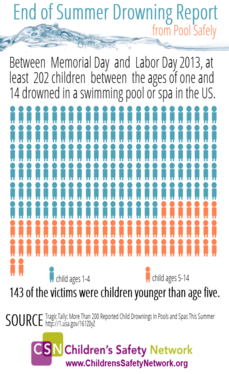 Every year, CPSC compiles an end of summer drowning report to track the tragic toll of child drownings nationwide. According to information reported by the media and compiled by the USA Swimming Foundation, more than 200 children under age 15 drowned in a POOL or SPA during the 2013 summer season from Memorial Day to Labor Day weekends; 143 of those children were under the age of 5.
The media reports from this summer are consistent with CPSC's annual reports: young children and toddlers are especially vulnerable to drowning in pools and spas. Children between the ages of 1 and 3 represent 67 percent of reported fatalities and 64 percent of injuries annually. Drowning is the leading cause of unintentional death among children one to four years of age.
Click here to read the full report and to download the info-graphic to share with others.