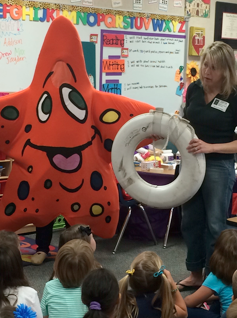 The Safer 3 Messengers serve an invaluable purpose to our organization. The Safer 3 Messengers provide the critical "boots on the ground" by educating their communities in order to prevent drownings. Recently, Safer 3 Water Safety Foundation heard of the incredible work that Stephanie Cusack, of Cusack Family Swim School, is doing in her McKinney, Texas community.
Stephanie's aquatic roots are strong. There was hardly a time in her life that she was not involved in the swimming world. Her family was very active with USA Swimming with her mother and father serving key roles in the organization. Stephanie attributes her athletic accomplishments in her adult life, having competed in triathlons and open water swims, to her life-long love of swimming.
Starting her own swim school was a natural fit for Stephanie. After opening Cusack Family Swim School in 2009, Stephanie knew that, in addition to teaching children and adults how to swim, she would incorporate water safety instruction into each class. "During the last minute of each swim lesson, we go over safety rules of do's and don'ts. We ask the kids, 'What would Gilbert, Timmy or Sammy say?' Then at the end of the month we give out water safety ribbons that state, "I AM WATER SAFER!"." Stephanie decided that she would adopt the Safer 3 message for her swim school's water safety program after learning about it at the USSSA conference in 2010. She remembers, "The simple message resonated with me. I love the characters and you can't go wrong dressing up like a star fish!"
Soon after Stephanie adopted the Safer 3 message, she branched out from teaching water safety in the pool and began to advocate water safety in her community. For the past four years, Cusack Family Swim School has been presenting the Safer 3 message in libraries, schools and at various community events. To date, Stephanie has educated approximately 3,000 children about water safety. Visiting elementary school classrooms is Stephanie's favorite outreach. She goes into each presentation with the knowledge that she is potentially saving lives. "If I can get the message across to just one child that day, maybe they will think twice before going swimming alone in that water."
Safer 3 Water Safety Foundation thanks Stephanie and Cusack Family Swim School for their dedication to water safety. To learn more about what you can do in your community to advocate water safety, visit: www.safer3.org/messengers. If you know of someone who should be recognized for their water safety efforts, please contact us at info@safer3.org.