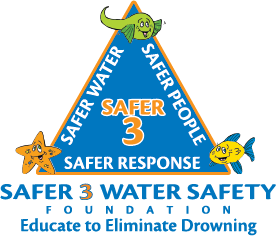 The Safer 3 Water Safety Curriculum is a program for pre-k through second grade students that increases water safety awareness. The Curriculum focuses on the Safer 3's cornerstones: Safer Water, Safer Kids, Safer Response. The classroom-based (dry-side), water safety curriculum is designed to teach children safer behavior while in, on, or around water and provide critical water safety information for their parents, other family members and caregivers. 
The program is especially critical to preschool through early grade school aged children (ages 4-8) because the statistics show that those children are at the most risk of fatal and non-fatal drowning incidents. 
---
The Safer 3 Water Safety Curriculum has been supported by a grant from Princess Charlene of Monaco Foundation.